As promised, here are some more picture books. Did you miss last week's books? Click
here
.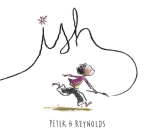 Ish
by Peter H. Reynolds
Ramon loves to draw. He draw everything and everywhere. That is, until his big brother makes a comment and he loses all confidence in his drawing. When his sister helps him see things a different way, everything changes.

NO
by Claudia Rueda
I remember when going to bed was the last thing I wanted to do. There was no good reason, right? Little bear feels the same way and has good answers for each of his mother's arguments. But then… The illustrations are really nice and show a very snowy winter.

Beautiful Oops!
by Barney Saltzberg
Clever, clever, clever! And inspiring. A drip of paint? Ripped paper? A smudge and a smear? All things to celebrate. I don't know what I like better, the idea behind this oops-are-beautiful book or the incredibly neat way it's put together.

Pig on the Titanic: A True Story
by Gary Crew, illustrated by Bruce Whatley
Although this story is narrated by a wind-up musical pig, it is actually based on a true story. When Miss Edith Rosenbaum boarded the Titanic, she was carrying Maxixe, a wind-up pig that played music. When the Titanic started to sink, Miss Edith held onto her pig, knowing it was good luck. Together, Miss Edith and Maxixe helped many kids get on the rescue boat.

Each Kindness
by Jacqueline Woodson, illustrated by E.B. Lewis
When a new girl, Maya, comes to her school, Chloe ignores her. Maya is friendly, but Chloe doesn't like her raggedy clothes. Chloe's teacher shows them how stones dropped in water create ripples, like how small kindnesses can create change. Chloe is ashamed and hopes for a chance to be different. This is a powerful book.

Secret Agent Splat
by Rob Scotten
Splat's dad makes toy ducks. When some of them turn up missing and then reappear (missing their beaks), Splat becomes Secret Agent Splat. Splat and his mouse friend Seymour work to solve the mystery. The illustrations are a riot.

Spork
by Kyo Maclear, illustrated by Isabelle Arsenault
Spork lives in a world of spoons and forks. As much as he tried, he never really fit in – he was either too pointy or too round. Trying to change did not help at all. Then one day… This is a terrific story with perfect illustrations.

The Insomniacs
by Karina Wolf, illustrated by The Brothers Hilt
Some people have a hard time sleeping at night and they are called insomniacs. This family, Mika and her parents, have insomnia. They try to cure it but in the end, they decide to change their lives instead. The illustrations are kind of spooky but in a good way.
I'll keep collecting picture books to tell you about (maybe in May?) Next week – Books to Make Your Heart Race!
Gail