Do you like exciting stories based on serious weather? Do you like to read about tornadoes and hurricanes? Then this bunch of books is for you.
FICTION

Storm Runners
by Roland Smith
Chase and his father live on the road, traveling to natural disasters. His father works making repairs for people who have been devastated by the storms. In Florida, they wind up at the winter quarters of a circus just as a monster hurricane bears down. When the storm strikes, Chase's school bus is swept off the road. This is a fast moving story that I couldn't put down. At first, I was disappointed to learn the adventure didn't wrap up by the end of the book. But then I realized it just gave me 2 more books to look forward to:
Storm Runners #2: The Surge
Storm Runners #3: Eruption

Can You Survive Storm Chasing? An Interactive Survival Adventure
by Elizabeth Raum
By reading this book, you experience a tornado, a hurricane and a flood. Every few pages you'll be asked to decide what to do next. Warning: not every choice turns out well!

Saint Louis Armstrong Beach
by Brenda Woods
Saint Louis Armstrong Beach is the name of an almost-12-year-old boy. He is a skilled clarinet player and makes money playing for people on the streets of New Orleans. Told in first person, he tells about his experiences before, during, and after Hurricane Katrina. It's a terrific story that is very well told.
Another story similar to this one and also terrific: Ninth Ward by Jewell Parker Rhodes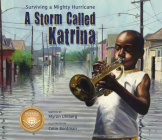 A Storm Called Katrina
by Myron Uhlberg, illustrated by Colin Bootman
10-year-old Louis Daniel thinks the worst of the storm is over when the wind and rain of Hurricane Katrina stops. But then the water starts to rise in his neighborhood. Daniel and his parents make their way to shelter – with Daniel and his mother sitting on the top of a broken-off porch as his father pushes them through the chest-high water. This picture book shows the flooding and the chaos without being too frightening.
NONFICTION

Tornadoes: The Science behind Terrible Twisters
by Alvin and Virginia Silverstein and Laura Silverstein Nunn
This book gives just what the title says: information about what tornadoes can do and why they happen. There are lots of pictures to show the impact of tornadoes, plus clear diagrams to explain the science. Also in this series:
Hurricanes: The Science behind Killer Storms
Earthquakes: The Science behind Seismic Shocks and Tsunamis

Tornado! The Story behind These Twisting, Turning, Spinning, and Spiraling Storms
by Judith Bloom Fradin and Dennis Brindell Fradin
This is a National Geographic Kids book and includes many excellent pictures of tornadoes in action and the damage they create. It's well constructed so if you want lots of information, you can read it all. But it also works if you just want to see the pictures, read the captions and the boxes of interesting tornado facts.
Saving Animals from Hurricanes by Stephen Person (sorry, no link)
When New Orleans flooded after Hurricane Katrina, people weren't the only ones who were in danger. Their pets were in danger, too. The rescue teams in this book searched the flood waters to find cat, dogs, hamsters and other pets and brought them to safety. This book is part of the Rescuing Animal from Disasters series from Bearport Publishing.
Some of you may have experienced a hurricane or a tornado. I bet it was very difficult and I hope everything turned out well for you and your family.
Gail