April is National Poetry Month. Are you a poetry fan? Terrific – I have a dozen books for you to enjoy. Not a fan yet? No problem. I have no doubt you'll find some here that will delight you.
Pug and Other Animal Poems by Valerie Worth, illustrated by Steve Jenkins

Valerie Worth was the first poet to show me that poetry was something good. Before then, I mostly avoided it. Her All the Small Poems and Fourteen More is a wonderful collection of delightful poems. I am excited about Pug and Other Animal Poems because not only is it filled with wonderful poems, they are illustrated by Steve Jenkins, whom I greatly admire.

Forget-Me-Nots: Poems to Learn by Heart selected by
Mary Ann Hoberman, illustrated by Michael Emberley
Until not
that long ago (the 1960s?), kids and adults used to memorize poems. Some
because they had to for a teacher or parent, some because they just wanted to.
This author says in her introduction, "When you learn a poem by heart, it
becomes a part of you." This book is filled with poems that are fun and not too long.
There may be some here that you'd like to make a part of you.

I've Lost My Hippopotamus by Jack Prelutsky, illustrated by
Jackie Urbanovic

Jack
Prelutsky is really good at writing short, funny, and silly poems. The poems in
this collection are mostly about animals. Some animals are real but some are
quite ridiculous.
If I Were In Charge
the Rules Would Be Different by
James Proimos (sorry, no link)
Just the
titles in this book are fun – My Feet
Stink. Does Your Nose Smell? Ode to
Spaghetti, My Delightful Derriere
and many more. Silly is good!

Beast Friends
Forever! Animal Lovers in Rhyme by Robert
L. Forbes, illustrated by Ronald Searle

So what kind
of beasts will you find here? A peacock, an ocelot, a camel (3 humps), an Irish
wolfhound, a kestrel couple and lots more. The poems are funny and the
illustrations are terrific, too.

Pigmares: Porcine
Poems of the Silver Screen by Doug
Cushman

As a fan of
Doug Cushman, I looked forward to reading this book. I was not disappointed.
All the poems are about pigs (pig lovers rejoice!) and classic monster movies.
The posters Cushman drew about each movie are great, too.
Nasty Bugs selected by Lee Bennett Hopkins,
illustrated by Will Terry (sorry, no link)
This book is
not just about any bugs, it's about the villains of the bug world: mosquitoes, fire
ants, chiggers, cockroaches (shudder) and other bugs I try not to think about.
Not for the faint-hearted!

When Thunder Comes:
Poems for Civil Rights Leaders by J.
Patrick Lewis and several illustrators

This is a
collection of serious poems. Many civil rights leaders are included here, such
as Coretta Scott King, Emmett Till, Gandhi, Harvey Milk and 11 others. Some
were people I didn't know but was glad to learn about.
Wish You Were Here
(and I Wasn't) A book of Poems and Pictures for Globe Trotters by Colin McNaughton (sorry, no link)
Traveling
soon? This would be a good book for the backseat riders or in hotel rooms. The
poems cover lots of travel scenarios: trips gone bad, money shortages, outer
space, nonstop itineraries and more.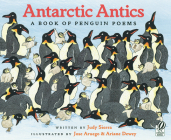 Antarctic Antics: A
Book of Penguin Poems by Judy
Sierra, illustrated by Jose Aruego and Ariane Dewey

I wouldn't
have thought one could write a collection of poems just about penguins but here
one is. And no repetition of topics! It covers hatching, a father's feet, regurgitating,
belly sliding and more.

Grumbles from the Forest: Fairy Tale Voices with a Twist by Jane Yolen and Rebessa Kai Dotlich, illustrated by Matt Mahurin

The
characters in 15 fairy tales tell their side of the story. There's the
Gingerbread Boy and the old couple, Cinderella and her whining stepsisters, the
Frog Prince and the princess… Clever!

Cowboys: Voices in the Western Wind by David Harrison, illustrations by
Dan Burr

Ever wonder
about cowboys? These poems give an inside look into the gritty cowboy life.
When I went looking for poetry books, I found lots. Next week I'll tell you about a dozen more!
Gail