Have a Terrific Memorial Day!
For many, Memorial Day is the first day of summer. I say bring it on! Chances are, you don't need books to get you in the spirit of summer
but here are some good ones to start your summer of reading fun.

A Stick is an Excellent Thing: Poems Celebrating Outdoor Play by Marilyn Singer, illustrated by LeUyen Pham
This collection of poems is pure summer: playing ball, fireflies, jumping rope, sprinklers and lots more. And the illustrations are as wonderful as the poems.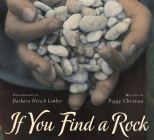 If You Find a Rock by Peggy Christian, illustrated by Barbara Hirsch Lember
I LOVE this book! It tells about all kinds of rocks: skipping, chalk, climbing, worry… And it tells about them in a way that makes me want to rush right out and find each one of them. It's a perfect summer book.

What in the Wild? by David M. Schwartz and Yael Schy, illustrated by Dwight Kuhn
This book would fit nicely in a post about science books or one of poetry books. But it also fits in this post of summer books. To me, summer is all about taking the time to really look at the world around you and see what you can see. Each double page spread has an animal poem riddle and an intriguing picture that gives you a clue to the riddle. Lift the flap to see the answer and more information. The photography and poems both draw you in.

Flora and the Flamingo by Molly Idle
Flora is short, a little round and outfitted in a swimming cap and flippers. The flamingo is tall, slim and graceful. Flora does her best to copy the flamingo's lovely moves but is not quite successful. This wordless, lift-the-flap book is unlike other books and is an absolute winner.

Ferdinand Fox's First Summer by Mary Holland
Ferdinand and his 4 siblings are red fox kits. This story follows their first few months of life and is rich with fox information. The photographs are truly wonderful.

Pearl and Wagner: Five Days Till Summer by Kate McMullan, illustrated by R.W. Alley
Pearl and Wagner are excited because there are only 5 more days until summer vacation. But Pearl is also nervous – she thinks next year's teacher, Ms. Bean, is mean. Will the end-of-the-year softball game help her think differently? This is a level 3 reader.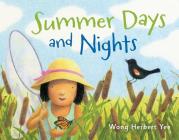 Summer Days and Nights by Wong Herbert Yee
A girl celebrates summer by looking for butterflies, splashing in the pool, exploring in the night with her flashlight and more summer fun.

Frog and Friends: Best Summer Ever by Eve Bunting
This book has 3 chapters about Frog and his friends. He and Bat chat about how they are alike and different. Frog goes on a vacation to be alone (or maybe not). Starman visits Frog and his friends to give them each a star. This is a level 3 reader.
A Real Cool Summer by Martha Rodriguez, illustrated by Joey Rodriguez (link in title)
It's the hottest, most boring day of summer vacation. What will the kids do to turn their misery around? This book always makes me smile and it might give you some ideas!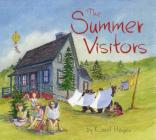 The Summer Visitors by Karel Hayes
The summer visitors are a family visiting their summer home. They do all the summer things: sit on the porch, have picnics, fly kites, take out the boat… They think they are alone but not really. A family of bears is enjoying the summer right along with them. This nearly wordless book is great fun.

Animal Stories: The Tortoise's Gift by Lari Don, illustrated by Melanie Williamson
One hot, dry summer in Zambia, the rain stops falling. The animals are thirsty and hungry. In the center of the forest, there is a tree that will grow every animal's favorite fruit. But first, they must find out the tree's name. This early reader is broken into 5 short chapters and is a well-told tale with fun illustrations.

Everyone Can Learn to Ride a Bicycle by Chris Raschka
There's nothing like learning to ride a bike. It's hard at first (at least it was for me) but so worth it. This is an inspiring look at the process with odd, yet fun, illustrations.

Step Gently Out by Helen Frost and Rick Lieder
I was so happy to discover this book! It is a very summer look at the world, with close-up photos of an ant, a praying mantis, a honey bee and other things that the warm weather and time of summer allows you to see. Lovely.
Summer is wonderful. Let's all have a great summer!
Gail