I enjoy math. There are lots of books that teach you how to get better at math. But those aren't the books I've included here. Today's books are more about seeing math as fun and interesting. You might learn something new with these books, but that's just an added benefit.

Minnie's Diner: A Multiplying Menu by Dayle Ann Dodds, illustrated by John Manders
The McFay family goes to the barn to do their chores. But one by one, they head to Minnie's Diner for something to eat. The youngest orders the special, which is a fair amount of food. But when each of his brothers orders, he orders double of the brother before. Great fun!
Ten Times Better by Richard Michelson, illustrated by Leonard Baskin (sorry, no link)
An elephant starts by boasting about its one trunk. A squid is not impressed: it has 10 tentacles – much better! All sorts of animals continue to boast about their best features: 6 legs (ant) vs. 60 teeth (crocodile), 8 eyes (tarantula) vs. 80 eyes (on its peacock feathers).

How Many Jelly Beans? by Andrea Menotti, illustrated by Yancey Labat
This book is really big! Its cover is big and some of its pages are huge. Makes sense, since one of the pages has 1,000,000 jelly beans. Care to count them?

Frankie Pickle and the Mathematical Menace by Eric Wright
Poor Frankie – he has to study for a math test over the weekend. But then fun things keep happening to keep him from studying. But were they just for fun? If you'd rather have math in games and real-life activities, you'll like this graphic novel.

Breakfast at Danny's Diner: A Book about Multiplication by Judith Bauer Stamper, illustrated by Chris Demarest
Twins Tina and Tony help out at their uncle's diner. They need to multiply to figure things out: setting tables, preparing orders, and doubling the ingredients for a pancake recipe. This book is part of the All Aboard Math Reader series (level 3). The pictures help make the problems even clearer. This is a good math-in-real-life book.

The Chicken Problem by Jennifer Oxley and Billy Aronson
Peg and Cat love pie and solving problems. They go to a farm to have a perfect pie picnic with Pig. But what about the 100 chicks that just got loose from their coop? This is only sort of a math book but it is so fun, I had to include it!

How Much is a Million? by David M. Schwartz, illustrated by Steven Kellogg
Have you ever wondered how long it would take to count to one million? How about how big of a goldfish bowl you'd need for one billion goldfish? Well, this book answers those questions and many more. You never know when you might need to know this stuff!

2 X 2 = Boo! A Set of Spooky Multiplication Stories by Loreen Leedy
I know this is a Halloween book but it's a really good multiplication book so I included it. Witches, cats, skeletons and bats figure out problems with multiplication. This comic-style book is fun and shows multiplication really well.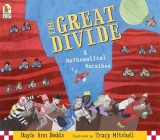 The Great Divide by Dayle Ann Dodds, illustrated by Tracy Mitchell
The race starts with 80 racers. The path splits and half fail to go on. But 40 do make it and go on until they have to divide and only 20 continue. The race proceeds with the racers dividing and dividing until the very end. If you are like me, you'll have to go back to check who the winner was.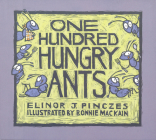 One Hundred Hungry Ants by Elinor J. Pinczes, illustrated by Bonnie Mackain
One hundred hungry ants set off to raid a picnic, walking ant-style in a single line. The littlest ant complains they are too slow and tells them to form 2 lines of 50. The ants scramble to create the 2 lines and they march on. Until the littlest ant has another idea… And another…They finally get there but will there be anything to eat?

Missing Math by Loreen Leedy
All the numbers in town suddenly disappear and everyone discovers how much they depend on them. A detective investigates the mystery, hoping to restore numbers to their proper places on chalkboards, rulers, TV remotes, speed-limit signs, clocks, calendars, cookbooks, calculators, and computers… the list goes on. The number thief is found but why all the number-stealing?
Looking for math books about money? Fractions? Measurement? Then next Monday's post is for you!
Gail