Here in the northeast, gardens are being planned and will soon be planted. Gardening is a GREAT family activity. There's research, engaging plans, the great outdoors, and all the lovely tending and harvesting. Here are some books to get you psyched!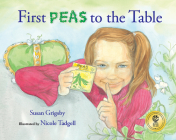 First Peas to the Table by Susan Grigsby, illustrated by Nicole Tadgell
Maya's teacher announces that the class will have a gardening contest just like Thomas Jefferson – and the first student to grow enough peas to fill a bowl wins. Maya really wants to win and works hard to help her pea plants grow. This book has gardening, history and friendship.

It's Our Garden: From Seeds to Harvest in a School Garden by George Ancona
This book carefully documents one school's garden project. It covers the planning, planting, observing, harvesting and celebrating. There is a good balance between clear text and lots of photographs. Inspiring!

The Curious Garden by Peter Brown
This is a wonderful book! Liam finds a scraggly garden growing on some unused train tracks. He isn't much of a gardener but he learns over time. When the garden grows curious, it spreads to other areas, wherever it feels like. There is real magic in this book.

Grow Your Own Monsters by Nicola Davies and Simon Hickmott, illustrated by Scoular Anderson
So what kind of monster plants are they talking about? How about Venus Fly Trap (eats flies), Voodoo Lily (looks like a snake and smells like a corpse), Giant Echium (20 feet tall) and others. Careful directions are given.

The Garden Project by Margaret McNamara, illustrated by Mike Gordon
A first grade class at Robin Hill School converts their sandbox into a garden. They plant, water, weed, harvest and eat the plants in their garden. This is a Ready-to-Read Level 1 reader.

Gardening Projects for Kids by Jenny Hendy
This book has lots of information that's clearly written and colorfully illustrated. It explains how to start your garden and gives projects for growing flowers, fruits, vegetables, plus other garden-related projects. It's written for parents but kids could find lots to interest them.

Max's Magic Seeds by Géraldine Elschner, illustrated by Jean-Pierre Corderoch
Max's Uncle Bill gives him a sack of seeds, telling him to secretly drop them all over town. When the flowers start to bloom, everyone is delighted. Will they figure out who has been planting the seeds? This is a fun story with magical pictures.

A Fruit is a Suitcase for Seeds by Jean Richards, illustrated by Anca Hariton
I'd never thought of this before but the title makes sense – a fruit is a suitcase for seeds! And the suitcases are so different – in size, shape, color and how they transport their seeds around.

Secrets of the Garden: Food Chains and the Food Web in Our Backyard by Kathleen Weidner Zoehfeld, illustrated by Priscilla Lamont
This book does an amazing job of showing lots of different food chains in clear and entertaining ways. It uses colorful illustrations, clear text, and speech bubbles to create an interesting and informative book.

The Sunflower House by Eve Bunting, illustrated by Kathryn Hewitt
A boy plants sunflower seeds in a wide circle. When they grow, they create a perfect house for him and his friends. I want to try this!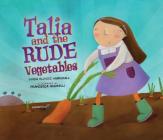 Talia and the Rude Vegetables by Linda Elovitz Marshall, illustrated by Francesca Assirelli
Talia's grandmother sends her to the garden to pick root vegetables for a Rosh Hashanah stew. But Talia thinks she said "rude" vegetables. It's funny how she decides which vegetables are rude. The recipe is included on the last page – looks good!

The Goodbye Cancer Garden by Janna Mattkies, illustrated by Kristi Valiant
When Janie and Jeffrey learn their mother has cancer, Janie suggests they plant a Goodbye Cancer Garden. The kids and their parents each choose 2 vegetables to plant and spend a long spring and summer tending the garden. This is a colorful and hopeful book about family and recovery.

A Seed is Sleepy by Dianna Hutts Ashton, illustrated by Sylvia Long
I am a big fan of this series (An Egg is Quiet, A Rock is Lively…). This book shows many kinds of seeds, how they grow, and how they get around. The information is clearly presented and the illustrations dance.
Want more information about family gardening? Wednesday's post will have lots of tips!
Gail