Going to school for the first time can be a scary thing. Sometimes a book or two can make the transition a little easier. Here are 10 books for those kids going to preschool and kindergarten. Enjoy!

Miss Bindergarten Gets Ready for Kindergarten
by Joseph Slate, illustrated by Ashley Wolff
Oh my, this is a wonderful book! It has everything:
delightful rhymes that show the entire alphabet, outstanding illustrations, and
a well-paced, somewhat suspenseful plot. Will Miss Bindergarten ever get her
classroom ready in time?

Wemberly Worried by Kevin Henkes
Wemberly is a mouse who worries about everything, all the
time. When it's time for her to go to nursery school for the first time, she really worries. But on the first day she
meets another student who worries too. They spend the day together and school
doesn't seem so scary. Kevin Henkes is one of my favorite kidlit authors and
this is another winner.

Polka-dot Fixes Kindergarten by Catherine
Urdahl, illustrated by Mai S. Kemble
Polka-dot was used to having her Grandpa fix everything. But
since he couldn't go to kindergarten with her, she had to make-do with the
fix-it kit he made for her. Good thing, too, since it was just what she needed
to turn a first day bully into a friend.

Puddle's New School: A Big Step for a Little Duckling
by Amber Stewart and Layn Marlow
Puddle couldn't wait to go to duckling school…until it was
time to actually go. Then it just seemed too scary. But his mother packed some
treats to help him feel less alone and the day goes very well.
Otto Goes to School by Todd Parr (sorry, no link)
This is a very colorful book! With bold pictures, clever
pictures and simple text, it tells the story of Otto's first day at dog and cat
school. Quite charming.

Dog-Gone School by Amy Schmidt, photographs by
Ron Schmidt
This is a perfect book for dog lovers, especially lovers of cute dog pictures. It has a collection
of short school-related poems and adorable photos to go with them.

Welcome to Kindergarten by Anne Rockwell
Anne Rockwell has been writing excellent nonfiction for a
long time and this is no exception. Young Tim goes to his future kindergarten
classroom to learn about what his days there will be like. The pictures are
colorful and the text inviting. This is a really good book for calming
kindergarten jitters.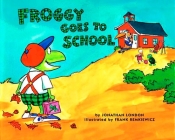 Froggy Goes to School by Jonathan London,
illustrated by Frank Remkiewicz
Froggy's first day of school starts out with a bad dream
about him showing up at school in his underwear. But the rest of the day goes
well, with fun classmates and understanding teachers. I always enjoy the Froggy
books—they make me smile!

I am Too Absolutely Small for School by Lauren
Child
Lola is sure she is too small for school and has lots of
reasons why she doesn't even need school. But her brother Charlie is able to
match all her reasons with his own reasons for why school would be a good idea.
The charming illustrations and the clever way the text winds around the pages make
this a wonderful book.

Tony Baloney: School Rules by Pam Muñoz and
Edwin Fotheringham
Tony Baloney is a macaroni penguin (a species of penguin
that lives in the Antarctic—I looked it up) who is excited about the first day
of school. He packs his stuffed animal buddy and he's ready. Things don't
always go smoothly but Tony adjusts to the list of kindergarten rules. He even
earns the right to wear the Friendship Ambassador crown. A sweet book with some
fun humor.
I hope everyone's new school year gets off to a smooth start!
Gail