Halloween is only 2 weeks away! Here are some books to keep you happy until the day comes. Click here for last week's books.
NONFICTION

All
New Crafts for Halloween by Kathy
Ross, illustrated by Sharon Lane Holm

There
are lots of good crafts here and are clearly written and illustrated. My
favorites: Batty Ear Dangles and The Great Spider Race.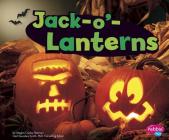 Jack-o'-Lanterns
by
Megan Cooley Peterson

This
book has simple text and some fairly amazing jack-o'-lantern photos. After a
brief history, there are directions for cutting and painting jack-o'-lanterns.

National
Geographic Kids: Halloween by Laura
Marsh

This
informational book covers many aspects of Halloween: trick-or-treating,
costumes, jack-o'-lanterns, history, and more. It's a level 1 early reader.
FICTION
Who
Took My Hairy Toe? retold by Shutta Crum, illustrated by
Katya Krenina
Great
title! This is an old Southern folk tale. On All Hallows' Eve, an old man
steals some tar and puts it in his pocket. Next he finds a big hairy toe,
covered in fur. He puts that into his pocket, too, and heads home. When he puts
his hand in his pocket, his hand sticks to the tar and the tar is stuck to the
hairy toe. Bad enough, but then a red-eyed (scary!) monster comes, saying, "Who
took my hairy toe?"

Hallowilloween:
Nefarious Silliness by Calef
Brown

These
are terrific beg-to-be-read-aloud poems. The illustrations are terrific
too—more funny that scary. There are poems the whole family will enjoy.

A
Newbery Halloween selected by Martin H. Greenberg and
Charles G. Waugh

This
is a collection of 12 short stories and excerpts of novels by Newbery-winning
authors. The stories include Beverly Cleary's Ramona and Eleanor Estes's Moffat
family. There are ghost stories by Paul Fleischman and Phyllis Reynolds Naylor.
Not all stories have a Halloween theme, but all have mystery and supernatural
activity. Perfect for nighttime read alouds.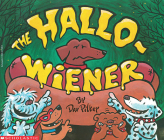 The
Hallo-weiner by
Dav Pilkey

Oscar
is a dog who is half-a-dog tall and
one-and-a-half dogs long (a dachshund). All the other dogs tease him until
one Halloween night. The text and pictures are really funny. If you like puns,
you're going to love this book.

Just
Say Boo! by
Susan Hood, illustrated by Jed Henry

What
should you say when you come across scary things? BOO! The illustrations switch from scary to fun with each turn of
the page. This would be a perfect read-aloud for young kids.

Twelve
Haunted Rooms of Halloween by Macky
Pamintuan

A
young bear ventures into a haunted house. This book tells about what he sees as
he creeps from room to room. Based on The
Twelve Days of Christmas, it's very fun and you just about have to sing
along. In addition to the clever rhymes, the illustrations are like a spooky
Where's Waldo – with over 375 items to find.

Creepy
Carrots! by
Aaron Reynolds, illustrated by Peter Brown

Jasper
Rabbit loves carrots and eats them morning, noon and night. But then they start
following him home. He can see them but no one else can. Is he imagining them
lurking in the background? Hard to say…

It's
Halloween Night! by Jennifer O'Connell, illustrated by
Jennifer Morris

On
Halloween night, kids dress up to go trick or treating. Readers are invited to
guess the costume from the clues given (With
this pointy hat and my spooky cat…) This is a young not-too-scary book.

Halloween
Hunt" A Spot-It Challenge by Sarah L.
Schuette

Each
two-page spread has a collage of photos that are collections of interesting and
yet creepy things. This is pretty challenging!

Scaredy
Squirrel Prepares for Halloween by Mélanie Watt

Scaredy
Squirrel books always make me laugh…many times. In this one, Scaredy Squirrel
gives advice on a number of Halloween subjects: decorations, costumes, candy,
and more. Basically, how to survive. I think my favorite is Rational Excuses to Not Enter a Haunted
Mansion.
Happy Halloween reading! Which Halloween books are your favorites? Write them in the Comments Box!
Gail