Are you a
basketball fan? Are you a basketball player? Here are books just for you. The
first books are for younger kids, followed by chapter books and books filled
with basketball tips and information.

Basketball by Ray McClellan
This Early
Reader (Level 4) book gives the history of, rules for, and equipment needed to
play basketball. It is part of the My
First Sports series.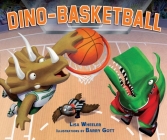 Dino-Basketball by
Lisa Wheeler, illustrated by Barry Gott
The Grass
Clippers (plant eaters) and the Meat (meat-eaters) are ready to play ball. They
are fierce players and both teams use their best skills. If you are a
basketball and a dinosaur fan, this book is perfect
for you!

Sports Illustrated
Kids: Hoop Rat by Scott
Ciencin, illustrated by Aburtov
Trey is the
Spartan's team captain. He becomes good friends with Griffin, who is the newest
player on the team. Problem is, Griffin used to play for the Goliaths, the
Spartan's biggest rivals. Can the team trust Griffin? This is a nicely-designed
lower-grade graphic novel.

Win or Lose by
Jake Maddox, illustrated by Sean Tiffany
PJ is the
tallest player on his team. He's a great player except he's really bad at free
throws. PJ is tired of missing important shots and works to overcome this
problem. This is a lower-grade chapter book.

Victory School
Superstars: Nobody Wants to Play with a Ball Hog by Julie Glassman, illustrated by
Jorge Santillan
Tyler has a
super power that makes him a perfect shot. Every ball he throws lands in the
basket. Because of this ability, he stops passing to his teammates. His
teammates get mad at him— like the title says, nobody wants to play with a ball
hog. This is a lower-grade chapter book.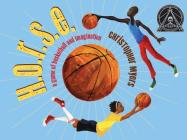 H.O.R.S.E. A Game of Basketball and Imagination by Christopher Myers
In a game of
H.O.R.S.E., one player shoots any kind of shot (layup, jumper, etc.) and the
other player has to make the same shot. If the second player misses the shot,
he earns a letter. The first player to get all 5 letters loses. Easy enough,
right? Well… not the way these players play it. Imagination is right! This is a
wonderful picture book for all ages.

Sports Illustrated
Kids: Play Basketball Like a Pro: Key Skills and Tips by Nate LeBoutillier
This book
covers key areas: how to get in condition, how to dribble, how to play defense,
how to make interior moves, and more. Each skill and tip has a photo of players
showing how it's done. This is part of the Play
Like a Pro series.
Sports Illustrated Kids:
The Technology of Basketball
by Suzanne Slade (sorry, no link)
Technology
has a definite part in basketball: in improving the gear, how the coaches and referees
do their jobs, and safety. Short chapters and action photos give lots of
information. This is part of the High-Tech
Sports series.

Slam Dunk! Basketball Facts
and Stats by Mark Woods and Ruth Owen

This book is
part of the Top Score Math series.
Chapters include: It's All about the
Numbers! Record Breakers, The Coach, Candace vs. Diana, and others. Each
short chapter has a quiz, with answers, a glossary, and an index on the last
pages.

Basketball: From Tip-Of
to Slam Dunk—the Essential Guide by Clive
Gifford
This book
covers lots of topics: getting ready to play, passing, pivoting, shooting, team
defense, basketball legends, and many more. I really like the photo
illustrations—they seem particularly clear to me. Both male and female players
are covered, young players and adults. The last pages have a glossary,
websites, and an index.
Have I missed any of your favorite basketball books? Write them in the Comments Box!
Gail