Two
years ago, I did a Book Post on wordless books. Or at least I thought I did. While preparing for this post, I went back to see
the books I used last time. I found my notes, but no record that I actually
posted it. Weird!
Anyway,
I'm using the books now, plus a bunch of new ones. I have lots of wordless books I really like, so I'll post some today and
again in a few weeks and then again once more. Last count? 30 books!

Hogwash by Arthur
Geisert
Mama
Pig constructs an enormous and complicated contraption which she uses to get
her little piglets clean. Like this? Check out other wordless books by this
author, including Oops and Ice.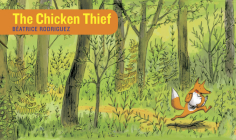 The
Chicken Thief by Béatrice Rodriguez
When
Fox makes off with Hen, Hen's friends chase after them to rescue her. They are very persistent! The story continues in Fox and Hen Together.
Where's
My Monkey?
by Dieter Schubert (sorry, no link)
A
young boy and his stuffed monkey go out for a bike ride and the monkey gets
lost. While the boy is at home sadly missing his best friend, the monkey has a
series of unpredictable adventures. His visit with the mice is rather alarming!
Will he ever make it home?

A
Ball for Daisy by Chris Rascha
This
is a simple story of a dog and her ball. The pictures are also simple but so
incredibly expressive – I marvel at how well I can feel Daisy's joy and disappointment.

Leaf
by
Stephen Michael King
This
book could be described as a book about a plant sprouting in a boy's messy hair.
That would be an accurate description but it hardly covers the story. This book
tells an impossible story that I found totally believable – at least I wanted to believe it.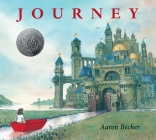 Journey by Aaron
Becker
Oh
my, this is a wonderful book. A boy creates his own adventure with his red
crayon. The illustrations are beautiful, the story is exciting, and you may be
like me and wish the story did not end.
Hocus
Pocus by
Sylvie Desrosiers and Rémy Simard (sorry, no link)
A
magician gets home at the end of the day, takes off his magic hat and falls
asleep in his chair. A rabbit hops out of his hat and causes all kinds of
mischief. Funny book!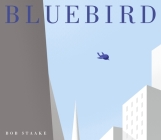 Bluebird
by
Bob Staake
A
bluebird follows a lonely boy home from school. The bird helps the boy make
friends and have fun. But then they meet up with some bullies. This is a sad
book but quite beautiful.

The Boy and the Airplane by Mark Pett
A
boy has many happy hours playing with his airplane. But then it flies up on a
roof. How does he solve this problem? Maybe you will guess but I sure didn't!

Fish on a Walk by Eva Muggenthaler
Technically,
this is not a wordless book, since there are 2 words at the bottom of each
two-page spread (alone-together, cranky-kind, rude-friendly…). But the details
in each picture are so rich and so darned interesting, it works as a wordless
book.
So
many books to share! Wednesday's Parent Post will have tips for using wordless
books.
Gail