Celebrate Thanksgiving with MORE Books
Along
with all the other blessings in my life, I am thankful for so many great
Thanksgiving books! If you missed last week's books, click here.
Giving
Thanks by Jonathan
London, illustrated by Gregory Manchess
A
boy and his father walk through the woods and as they walk, the father gives
thanks to all he sees—frogs, crickets, trees, Fox, Jackrabbit… The boy is a bit
embarrassed and yet he gets it. This is a perfect book about giving
thanks.

Sometimes It's Turkey, Sometimes
It's Feathers by Lorna and Lecia Balian
There
are 2 versions of this story. The original was published in 1973 and the newer
version was published in 2004. The older version is illustrated in a charming
old-fashioned way and the newer one is more colorful. The story stays the
same and tells of an old woman who finds a wild turkey egg and raises it for a
fine Thanksgiving dinner. A trick ending!

Count
Your Blessings! by Patricia Reeder Eubank
Cuddlebear
asks his mother what Thanksgiving means. She helps him understand by counting
with him all the things in his life he has to be thankful for. This is a busy
book with lots to see on each page, with flaps to lift, pictures to search for,
and things to count.

Cranberry
Thanksgiving by
Wende and Harry Devlin
Maggie
and her grandmother live on the edge of a cranberry bog. Grandmother and Maggie
each invite a guest to Thanksgiving dinner. Grandmother is not pleased that Maggie
invited the scruffy Mr. Whiskers. What if he stole her famous recipe for
cranberry bread? This book has been around for a long time—since 1971—and I
still enjoy reading it. By the way, the recipe in the end is really good!

It's
Thanksgiving! by Jack Prelutsky, illustrated by Marylin
Hafner
This
is a collection of poems just about Thanksgiving. They cover a wide range:
family, the first Thanksgiving, school projects, football, turkeys, leftovers
and more. This is a I Can Read Level
3 book.

The
Thanksgiving Door by Debby Atwell
After
burning their Thanksgiving dinner, an old couple head for the local café. The
café is closed but the immigrant family welcomes them to dinner. Their
celebration is full of food, music and dancing, causing the couple to be
grateful they burned their dinner. This is a properly thankful Thanksgiving
story.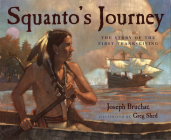 Squanto's Journey by Joseph Bruchac, illustrated by
Greg Shed
Squanto
tells about how he was captured by the British, sold into slavery in Spain, and
then returned to the New World to become a guide and friend for the colonists.
The story is well told and the illustrations are beautiful.

Nickommoh! A Thanksgiving
Celebration by Jackie
French Koller, illustrated by Martha Sewall
What
a joyful book! It tells the story of the Narragansett people as they celebrate
the harvest. The illustrations are perfectly wonderful woodcuts and the text
dances. You just have to read it aloud!

Give
Thanks to the Lord by Karma Wilson, illustrated by Amy
June Bates
A
young boy gives thanks for all the good things in his life. Told in rhyme, it
would be perfect as a different way of saying grace at Thanksgiving dinner.

I
Know and Old Lady Who Swallowed a Pie by Alison
Jackson, illustrated by Judith Byron Schachner
You
may know the song, I Know an Old Woman
Who Swallowed a Fly. Well, this is a Thanksgiving version with the old
woman eating just about everything at the dinner in an effort to counteract her
too-dry pie. Great fun!

Let's Throw a Thanksgiving Party! by Rachel Lynette
After
a brief history of Thanksgiving, this book has ideas for decorations, treats,
games, and giving thanks. The text and pictures give a good Thanksgiving
overview.
I hope you all have a wonderful Thanksgiving!
Gail