This week's books are all about Chinese New Year. I don't know a lot about it, so I asked my friend, Josianne Fitzgerald. Josianne is the elementary librarian at the
International School of Tianjin. For more information about Chinese New Year, check back on Wednesday and Friday this week.
Books for
Chinese New Year
by Josianne Fitzgerald
Chinese New Year, also called Spring Festival, is
celebrated in China and by Chinese people all around the world. The date for
Chinese New Year is based on a lunar calendar and so it changes every year. In
2014, Chinese New Year will fall on January 31 when the moon will be at its
darkest. It is the most important holiday in Chinese culture and it celebrates family
ties as well as the end of winter and the beginning of spring.
I am an elementary school librarian at an international
school in Tianjin, a city about an hour away from Beijing. I am originally from
Venezuela and am married to an American. My family and I have lived here for 13
years, and this is our favorite part of the year. There's excitement in the
air, as families prepare to bid farewell to the old lunar year and bring in the
new one.
To prepare for the Spring Festival, families clean
their houses, decorate their doors and windows with lucky fu papers or paper
cuts, buy new clothes and give gifts to friends and family. Chinese New Year's
Eve brings families together to make dumplings and set off fireworks. The noise
at midnight in Tianjin is indescribable with thousands upon thousands of
rockets bursting into the air to chase off the old year.
As the elementary librarian at an international school,
my lessons at this time of the year focus on fiction and non-fiction that
reflects the culture of northeastern China, and I'd like to share with you my
favorite books.
Non-fiction

Celebrations! by Anabel and Barnaby Kindersley.
The two author photographers traveled the world for a
year looking at how children and their families celebrate holidays. Chinese New
Year is included in the section for spring celebrations. I like this
non-fiction book because of its beautiful and plentiful photographs, and the
interviewed children's perspective on the holidays they celebrate.

Moonbeams, Dumplings and Dragon Boats by Nina Simmonds, Leslie Schwarz
and the Children's Museum of Boston.
This book presents facts, tales and activities for
several Chinese holidays including Chinese New Year. The watercolor
illustrations are beautiful and colorful. This is a book that I bring out for a
short read at each of the holidays featured: Chinese New Year and the Lantern
Festival, Tomb Sweeping Day, Dragon Boat Festival and the Mid-Autumn Moon
Festival.
One Year in Beijing by Wang Xioahong (sory, no link)
This book follows Ling Ling, a young girl in Beijing, throughout the year. While this is not dedicated only to the Spring Festival, it helps set the celebration within the calendar year.
Fiction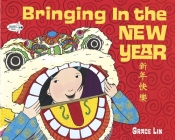 Bringing In the New Year by Grace Lin.
Colorful illustrations and a simple text convey the
excitement of the Chinese New Year. A trio of Chinese American girls get ready
for the celebration. They sweep the old luck away, get new haircuts and
clothes, put up rhyming couplets and decorate their house. At the end, they go
to the parade where a dragon takes center stage.

The Dragon New Year: A Chinese Legend by David Bouchard and Zhong-Yang
Huang.
A Chinese grandmother explains to her young
granddaughter who is frightened by the noisy, bright fireworks on the eve of
Chinese New Year how it came to be that Chinese people celebrate the holiday
with bright lights and much noise. The illustrations by Zhong-Yang Huang are
magnificent, full of detail and drama. Combined with David Bouchard's lyrical
text, this is a perfect story for lap reading on a dark winter's night.

Long Long's New Year: A Story about the Spring Festival by Catherine Gower and He
Zhihong.
This is hands-down my favorite book to read aloud. Set
in modern day China, this is the story of Long Long and his grandfather, who go
to the big city to sell cabbages from their farm. They run into trouble and
Long Long worries that they will not be able to sell enough cabbages for all
the shopping they would like to do for the Spring Festival. The illustrations
are wonderful, watercolor on rice paper. The street market where the story
takes place is mostly a thing of the past now, as they have been replaced by
indoor markets that are warmer and more sanitary, at least in the larger
cities. Still, the illustrations remind me of what markets used to be like 12
years ago when we first arrived in China. That, the detailed illustrations and
the heart-warming story of little Long Long, make this a great book to
share.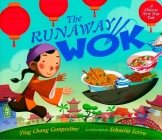 The Run-Away Wok: A Chinese New Year Tale by Ying Yang Compestine.
This cheerful tale is perfect for a read-aloud. Bright
illustrations add to the fun. A poor Chinese man who works for the richest man
in Beijing trades his family's last eggs for a magic wok that changes their
fortunes, and that of the rich man, forever.
Many thanks, Josianne!
Gail