MORE Wonderful and Wacky
Wordless Books
As promised, here is another batch of wordless books. If you'd like to see the first installment, click here. For ideas on how to use wordless books, click here.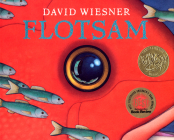 Flotsam by David Wiesner
An exploring boy finds an underwater camera that a wave has washed up on the beach. He quickly develops the film he finds inside. The photos are truly amazing: a windup fish, ocean creatures sitting in over-stuffed chairs and reading books, underwater aliens… This is a very interesting book!

Here I Am by
Patti Kim, illustrated by Sonia Sánchez
A boy and his family move to New York City from
an Asian country. He is NOT pleased. Everything is so unfamiliar. The only
thing that gives him comfort is the red seed he brought from home. One day he
drops the seed and it was picked up by a girl. As the boy follows her, he
starts to be drawn into the city. If you've ever had to live in an unfamiliar
place or spent time with someone who has, this book will make sense to you.

The Island by
Marije Tolman and Ronald Tolman
A polar bear travels to many islands and meets a
variety of birds, fish, and other animals. That's a simple description of the
story. But it doesn't tell the whole story. The whole story is one of mystery
and many interpretations. Like dreams…

The Hero of Little Street by Gregory Rogers
A boy narrowly escapes 3 bullies by slipping
into a museum. While he's looking at a painting, the painting comes to life.
The boy follows a dog in this pretend world and they have adventures together.
This is clearly a clever boy—he saves the day in both the pretend world and
then back in the real world.
Flood by Alvaro F. Villa (sorry, no link)
A family prepares their house for an approaching
storm. Thankfully, when they are done preparing, they leave their home to stay in a safer
place. The storm is quite violent and does a lot of damage. When the family
returns they are shocked, but then go about making the repairs. I like how this
book gives a clear picture of what a storm can do, but never puts the family in
danger.
Hank Finds an Egg by Rebecca Dudley (sorry, no link)
Hank finds an egg and wants to return it to its
nest. The nest is too high for Hank to reach, but Hank has some good ideas for
reaching it. Unfortunately, none are quite right, until his final solution,
which is very nice.

The Arrival by Shaun Tan
This is an amazing book. It's also hard to
describe. Through many (hundreds?) of small and large pictures, the author
illustrates what it may be like to be a stranger in a strange land. It's about
the immigrant experience but it's also about feeling like an outsider. My fifth
graders and I LOVED this book.

Zoom by
Istvan Banyai
This is a book you have to see to really
understand. It starts with a picture of a rooster's comb. It zooms out to the
rooster's head, and then to the rooster standing in a barnyard. After that it
zooms out, page by page until, well, it's pretty amazing how far out it zooms.

Sidewalk Circus by Paul Fleischman and Kevin Hawkes
A girl sits on a bench, waiting for the bus. The
theater across the street is advertising the circus coming soon. But, wait,
there's a circus happening all around her as she waits. There's a butcher
strongman with a tremendous weight on his shoulders. There's a construction
worker balancing paint cans as he steps across a beam. There's a cook juggling
pancakes. Fun!

The Red Book by Barbara Lehman
A girl walks down her city street and finds a
red book. The book is about a boy who lives on an island. A boy walks on his
island beach and finds a red book. It's about a city girl. A truly magical
book….

Home by Jeannie Baker
A window opens to a city neighborhood. As a baby
grows up, we can see her neighborhood get uglier and then, as she gets older,
everyone works to clean up the streets and create beauty. All as seen through
the one window.

The Secret Box by Barbara Lehman
A young boy from the early twentieth century
hides a box with secret instructions in the floorboards of his school. It is
discovered by boys from a later generation, who follow its secrets. And
that's not nearly the end of it.
It seems every week or so I find new wordless books. My list is growing! I'll have another post on them in a few weeks.
Gail