Books for Young Bird Lovers
Although I love seeing birds any time of the year, I especially love seeing them in the spring. They prove, even though the weather may be still quite wintery, spring is coming. Some years, their presence and their songs are the only evidence of spring for several weeks. Thanks you birds!
I loved reading the books for this post and learned a lot. I hope you do too!

Vulture View by April Pulley Sayre, illustrated by Steve Jenkins
Have you ever seen a vulture? Have you seen one soaring high in the sky? I think vultures are cool birds and the rhyming text and the illustrations of this book capture a day in the life of a vulture perfectly.

About Birds: A Guide for
Children by Cathryn Sill, illustrated by John Sill

Written for the youngest readers, this book
combines simple text with outstanding paintings of birds in their habitats. The
last pages include more information about the birds.

Little Green by
Keith Baker
A boy with a paintbrush carefully watches a
hummingbird outside his window. The gorgeous illustrations are supported by
brief text that clearly describes the constant movement of hummingbirds.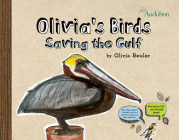 Olivia's Birds: Saving the
Gulf by Olivia Bouler
The author is 11 years old. She draws and
paints birds and has raised more than $150,000 for her Save the Gulf campaign. In this book, she includes lots of bird
information, plus many of her wonderful watercolor paintings. Fun, informative,
and very impressive!

Two Blue Jays
by Anne Rockwell, illustrated by Megan Halsey
The students in Miss Dana's class observe
two blue jays as they build a nest, care for eggs, feed their chicks, and tend
their growing family. Reading this, I couldn't help but be jealous of these
students with a bird's nest right outside their window!

A Nest Full of Eggs by Priscilla Belz
Jenkins, illustrated by Lizzy Rockwell
Like the previous book, this one follows a family of birds – robins. This book has more information, including the
growth of the chicks within the shells.

Birds
by Nicola Davies
This well-designed book has 18 two-page
chapters covering a wide range of bird information. Topics include bird bodies
and senses, flying, homes, raising babies, and more. The last pages give
directions for making a bird book, making bird feeders, and using nest boxes.

The Tale of Pale Male by
Jeanette Winter
This story is based on the true story of two
red-tailed hawks, named Pale Male and Lola. The pair makes their nest on the
top of an apartment building in New York City. They raise their family as
crowds of people watch them from the street below. They become famous but not
everyone appreciates them. This story makes me want to go see Pale Male and
Lola!
Also about Pale Male and Lola: Pale Male: Citizen Hawk of New York City
by Janet Schulman

The Boy Who Drew Birds: A
Story of John James Audubon by Jacqueline Davies, illustrated by Melissa Sweet
John James Audubon became famous in the
1800s for his detailed studies of birds. His paintings are still thought to be
important. This book covers his early life and the beginning of his study of
birds. There is lots of interesting information about Audubon and
his discoveries. The illustrations are beautiful.
Crinkleroot's Guide to Knowing the
Birds by Jim Arnosky (sorry, no link)
I really like this beginner's guide to bird
watching. It has a lot of information, but not too much. The illustrations are
colorful and detailed. There are other Crinkleroot nature guides, including Crinkleroot's 25 Birds Every Child Should
Know—next on my to-read list!

Welcome Brown Bird by Mary Lyn Ray,
illustrated by Peter Sylvada
This book is about one migrating bird and two boys. One boy lives on a northern farm and spends the spring
and summer listening to a brown thrush. When the weather turns cold, the bird
flies away. The second boy lives in a southern forest and waits for the brown thrush to return. He
listens to the thrush's song througout the fall and winter. This is a lovely
story.
Everything Bird: What Kids
Really Want to Know about Birds by Cherie Winner (sorry, no link)
If you spend time watching and thinking
about birds, you are bound to have questions. This book answers 29 questions,
including What makes a bird a bird? Can
an owl really turn its head all the way around? Do woodpeckers ever get a
headache from hammering on wood?
Lots of good information!

Birds, Nests, and Eggs by
Mel Boring, illustrated by Linda Garrow
Fourteen birds are described, plus
descriptions and drawings of their nests and eggs are included. There are also
3 projects: making a "blind" for watching birds, making a bird shower-bath, and
making a suet feeder.
Looking for more bird stuff? This week's Friday Fun post will have bird games, crafts, and puzzles.
Gail