Easter
is Coming! Celebrate with Books for the Whole Family
Easter
is April 20th this year—just two weeks away. Easter is such a
wonderful holiday. I love the quiet celebration with family and church. It's
spring, or nearly so, and everything is starting to grow. Lovely.
FICTION

Pete the Cat: Big Easter Adventure by Kimberly and
James Dean
The
Easter Bunny asks Pete to help him find, paint, and hide some Easter eggs. So
Pete puts on bunny ears and goes out to find eggs. He gets the eggs, plus more
bunny parts to wear. A poster, stickers, and Easter cards are included.
Easter Bunny on the Loose by Wendy Wax, illustrations by Dave Garbot (sorry, no link)
Discover who took the Golden Egg by following the clues in this Where's Waldo type book. The clues are all there, you just have to find them!

Bently & Egg by William Joyce
Bently
is a young and musical frog who gets roped into egg-sitting for his friend Kack
Kack the duck. Bently is not very impressed by the plain white egg so he paints
it with a beautiful design. This makes it look like an Easter egg, which causes
a string of adventures. This picture story is very sweet.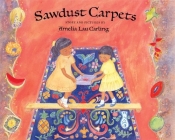 Sawdust Carpets by Amelia Lau Carling
The
Lau Family has been invited to spend Easter with their cousins in Antigua,
Guatemala. Though the Laus are Chinese and Buddhist, they love their relatives'
celebration of Easter. The creation of spectacular sawdust carpets is one of
the best parts. This is a beautiful book—it made
me want to go to Guatemala to see the carpets and the procession they were part
of.

Bunny's Easter Egg by Anne Mortimer
Bunny
is tired after spending the night hiding Easter eggs. There is still one left,
but she is too tired. She brings it into her basket and goes to sleep. When it
starts to crack, Bunny decides to look for someplace quieter – not an easy
task. Be sure to look for the Easter eggs hiding on each page.

Piggy Bunny by Rachel Vail, illustrated by Jeremy Tankard
Liam
the piglet is like any other piglet, except he wants to be the Easter Bunny.
Even though most of his family thinks this is a crazy idea, Liam goes into
training. Funny story and funny pictures!

The Birds' Gift retold by Eric A. Kimmel, illustrated by Katya Krenina
A
little girl discovers many golden birds caught in an early winter storm. The
villagers take in the flock and care of them through most of the winter. When
they return in the spring, the birds have something for the villagers. This is
a retold folktale of the Ukrainian pysanky eggs.
NONFICTION

Easter Traditions around the World by M.J. Cosson, illustrated by Elisa
Chavarri
Read
about the Easter traditions in 12 countries, including Australia, Germany,
Mexico, and Poland. Directions for coloring Easter eggs are also included.

Easter by Trudi Strain
Trueit, illustrated by Benrei Huang
This book covers many parts of Easter:
history, traditions, and foods. It also has Easter poems and songs.

The First Easter: The Story of Why We Celebrate Easter by Carol Heyer

Starting
with his birth, this book is a simple retelling of Jesus' life and the events
leading up to the first Easter. The painted illustrations beautifully support
the text. It would make a terrific read-aloud.

My Very First Easter Story by Lois Rock, illustrated by Alex Ayliffe

The
story of Easter is told simply, from Good Friday to Easter day. The attractive
illustrations nicely support the story. The small size is perfectly suited for
small hands.

Easter Sweets and Treats by Ruth Owen
This
book is best for family cooking or an experienced older child. All the recipes
are clearly written and look delicious. There 6 recipes: Easter Brunch Eggs, Easter Bunny Cookies, Carrot Cake, Easter Nest
Cupcakes Homemade Easter Eggs and Deviled
Easter Eggs. Enjoy!

The Easter Story by Brian Wildsmith
Brian
Wildsmith is one of my favorite writer-illustrators. This book is absolutely
beautiful. It tells the story of the last days of Jesus' life, the crucifixion,
and the resurrection, as seen through the eyes of a small donkey. It is a
perfect read aloud book.
I hope you have a Happy Easter!
Gail