Exciting Books about Firefighters
Would you like to learn about the job of a firefighter? These books can give you a good start.

Nozzlehead's Big Adventure by TJ Spencer, illustrated by Dodot Asmoro
The firefighters at Warmville Fire and Rescue are called out to a fire. They put out the fire at the old wood barn but will they see the kitten trapped in a tree? This book wonderfully captures the urgency of fighting fires.

A Firefighter's Day by Helen Gregory
With simple text and strong photos, this is a good introduction to firefighters.

Firefighters! Speeding! Spraying! Saving! by Patricia Hubbell, illustrated by Viviana Garofoli
Follow a firefighting team as they get the call, speed to a fire, rescue trapped people, put out the fire, and clean up back at the station. Told in rhyme, this book really captures the excitement of the job.

This is the Firefighter by Laura Godwin, illustrated by Julian Hector
This book is like the one above, with very different illustrations. These illustrations have lots of details to look at, showing the neighborhood of the burning building and neighbors reacting to the fire.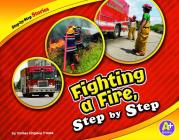 Fighting a Fire, Step by Step by Thomas Kingsley Troupe
This book also follows a firefighting team from getting the call to returning to the station. It is illustrated with photos and is more focused on facts than showing the excitement of the job.

Diary of a Firefighter by Angela Royston
This book is written as the diary of a firefighter. It covers checking the equipment, answering a false alarm, fire safety, a rescue, a chemical spill, and other parts of a firefighter's job.
Firefighter's Tools by Anders Hanson
Firefighting tools are pictured, explained, and shown in action. The back pages contain two brief quizzes and a glossary.

Firefighters A to Z by Chris L. Demarest
Each letter represents a key firefighting feature. A is for Alarm that rings loud and clear. B is for Boots stowed in our bunker gear. The illustrations are very lively. This book won the New York Times Top 10 Picture Book Award in 2000.

Tito, the Firefighter / Tito, el Bombero by Tim Hoppey, illustrated by Kimberly Hoffman
Tito is an 8-year-old who is bilingual (speaks both English and Spanish). His friend is Richie, who is a firefighter. When a Spanish-speaking man comes to the firehouse to report a fire, Richie is able to save the day by translating.

My Mom is a Firefighter by Lois G. Grambling, illustrated by Jane Manning
Billy's mom is a firefighter and Billy considers the other firefighters to be his second family. The story follows Billy's visit to the station, his mom's program on fire safety at his school, and Billy helping feed the firefighters after a big fire.

City Firefighters by Meish Goldish
One of a series on firefighters, this book covers the work of city firefighters. It shows fighting a warehouse fire, other types of rescues, fighting the World Trade Center fires in 2001, and other topics. The back pages contain a glossary and resources for learning more. The other books in the series: Aviation Firefighters, Hotshots, Marine Firefighters, and Smokejumpers.

Firefighter by Jim Ollhoff
Written for upper elementary and middle school students, this book is full of firefighting information. Some of the topics include firefighting history, kinds of fires, training, and equipment.
Do you think you might like to be a firefighter? Then I hope you enjoy these books!
Gail