Plan for Earth
Day with Outstanding Books
Earth
Day is on April 22. Here are a bunch of books to help get you started thinking
about and planning for how you will celebrate.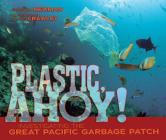 Plastic, Ahoy! Investigating the Great Pacific Garbage Patch by Patricia Newman, illustrated by Annie Crawley
The Great Pacific Garbage Patch is a collection of plastic—both large and tiny pieces that is floating in the Pacific Ocean. A team of researchers spent about three weeks at sea, investigating it. This book documents their work and their findings. I've been curious about the patch for some time and this book taught me a lot. This is a perfect book for young scientists and environmentalists!

Earth Day by
Molly Aloian
With
text and pictures, this book covers the reasons for Earth Day, its history and
symbols, and ways it is celebrated.

One Well: The Story of
Water on Earth by
Rochelle Strauss, illustrated by Rosemary Woods
The
text and paintings in this book combine beautifully to tell the history,
workings, and complex issues surrounding Earth's water. Written for older
elementary and middle school students, this is an exceptional book.

EcoArt! by
Laurie Carlson
This
book has been around since 1993 and has a fantastic collection of
Earth-friendly crafts. I've used ideas from it for many years and will continue
to.

Let's Celebrate Earth Day by Connie and Peter Roop, illustrated by
Gwen Connelly
Using
a question and answer format, this book gives lots of information about Earth
Day. It includes history, important concepts, and good ideas for being good
Earth citizens. The watercolor illustrations nicely support the text. This is a
terrific book!

Earth Day—Hooray! by Stuart J. Murphy, illustrated by Renée
Andriani
Three
kids organize an aluminum can drive to earn money. They want to use the money
to buy flowers for the local park. It's a good story, plus it sneaks in a place
value lesson.

Crinkleroot's Guide to Giving Back to Nature by Jim Arnosky

I
have just recently discovered the Crinkleroot series and I'm so glad I did!
Each one is a little gem showing how to be good Earth citizens. This one gives
lots of doable ways: feeding animals, planting animal-friendly plants,
respecting animal habitats, and more. 
You Are the Earth by David Suzuki and Kathy Vanderlinden, illustrated by
Wallace Edwards (sorry, no link)
David
Suzuki is a scientist and the host of the TV show The Nature of Things. This book for older students (upper
elementary and middle school) is full of information about air, water, fire,
and more. I really like how it has lots of experiments that help show how many
of the book's concepts and ideas work.

Common Ground: The Water, Earth, and Air We Share by Molly Bang

The
author starts with a simple story about a long-ago village and its commons
where everyone's sheep could graze. This story is used to show how overuse of
each of Earth's resources is like this village common. A simple story with a
powerful message.

Planet Ark: Preserving Earth's Biodiversity by Adrienne Mason,
illustrated by Margot Thompson
This
book compares Earth to the Bible story of Noah's Ark. It stresses the
importance of biodiversity (maintaining a wide variety of plant and animal species
in their natural environments) for Earth's survival. It covers many topics,
including food webs, habitats, environmental threats, and the work of
modern-day Noahs.
3 Pandas Planting by Megan Halsey
Starting
with 12 Crocodiles: We're carpooling,
11Tigers: We turn off our faucets, this basic book shows animals doing
their part to take care of Earth. The illustrations have lots to look at.

Nature Recycles: How about You? by Michelle Lord, illustrated by
Cathy Morrison
Do
you think only humans recycle? Think again! sea urchins, hermit crabs,
octopuses, beetles and other animals and insects recycle. I like this
book's  approach to the topic of
recycling.
What
are your ideas for Earth Day? Write them in the Comments Box!
Gail