Beach Books!
The beach is wonderful any time of the year but it really shines (literally) in the summer. And to get you started, here are lots of good beach books.
NONFICTION

At the Beach by Alexa Andrews, illustrated by Candice Keimig
This is a perfect book for beginning readers at the beach. Three basic sentences forms are repeated to give information: in the water, on the sand, and at the beach. This is a level one reader.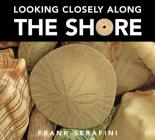 Looking Closely at the Shore by Frank Serafini
The photos in this book come in pairs. First you see a close-up detail of something found at the seashore. What is it? Turn the page and find a complete photo, plus some information about the object. I always enjoy looking at this type of book. This one stumped me several times!

High Tide, Low Tide: Nature's Cycles by Jason Cooper
This basic book does a nice job of explaining tides in simple language. It's one of 8 books in this Nature's Cycles series.
The following 4 books are seashore information books. I've listed them in order of complexity. Each book has lots of information to explore. And each does a good job of balancing pictures and text so no page looks overwhelming.

Eyewitness Books: Seashore by Steve Parker
This book, like all the many Eyewitness books of its type, has LOTS of information. There are 25 chapters, covering topics such as Shaping the Shoreline, The Holdfast Habitat, Tentacles and Stings, Life on a Ledge, and Preserving Our Shores.
Hold Big is the Ocean? First Questions and Answers about the Beach by Time Life for Children (sorry, no link)
Answers questions such as Why is water blue? What makes ocean water salty? and Why does water come in the holes I dig?

Seashore Life by Jinny Johnson
Chapters include: Life Between the Tides, Seashore Fish, Coastal Birds, and Nesting on the Beach. This is one of 6 books of this Watery Worlds series.

Sea Shores by Beth Blaxland
Chapters include: Tides, Sea Shore Habitats, Life on Sheltered Shores, and Food Web of the Sea Shore. This is one of 6 books of this Water Worlds series.
FICTION

Splash, Anna Hibiscus! by Atinuke, illustrated by Lauren Tobis
Anna Hibiscus lives in Africa. She and her big family are at the beach. Anna Hibiscus desperately wants someone to play in the water with her but declines her pleading invitation. Finally, she decides the waves themselves are fine playmates. Anna Hibiscus always makes me smile.

Pete the Cat: Pete at the Beach by James Dean
Pete the cat is at the beach with his mom and his brother, Bob. Bob goes surfing but Pete carefully avoids out of the water. Finally, Pete gets so hot he dares go in the water. Then he dares to try surfing. This is a story about being brave.

Something Big by Sylvie Neeman and Ingrid Godon
A little one and a big one go for a walk on the beach. The little one is upset because he wants to do something big but he doesn't know what. The big one wants to understand but doesn't. Together, they try to figure it out. This book kept me wondering to the very end. It's quite wonderful.

Claude at the Beach by Alex T. Smith
Claude is a small dog who wears a beret and a red sweater. One day, he and his best friend, Sir Bobblysock, go on an adventure. Claude packs a suitcase and off they go to the beach. This is no lie-in-the-shade beach trip—there are adventures to have—a sand castle contest, a shark attack rescue, and a pirate adventure. I'm happy to report there are at least 2 more Claude books!

Duck and Goose Go To the Beach by Tad Hills
Goose is adventurous. Duck is not. So when Goose suggests they go on a trip, Duck is NOT enthusiastic. However, when they get to the beach, Duck begins to see its charms. This a quiet story about two great friends.
I hope you have as much beach time as you want this summer!
Gail