Get Ready to Plant! Books about Gardening
Is it time to plant where you live? Here in the Northeast, planting season has just begun and it's an exciting time. So much to do and watch! Here are some gardening books to inspire you…

Garbage Helps Our Garden Grow: A Compost Story by Linda Glaser, illustrated by Shelley Rotner
With lots of photos of kids working and clear text, this book shows the how and why of composting. Well done!

Cheers for a Dozen Ears by Felicia Sanzari Chernesky, illustrated by Susan Swan
Two kids and their parents go to a farm stand to shop for garden goodies. They buy 1 watermelon, 2 eggplants, 3 peppers…all the way to a dozen ears of corn. This simple rhyming counting book has brilliant illustrations.

Gardening with Children by Sigrun Wolff Saphire (editor), illustrated by Sam Tomasello
This book is chock full of gardening and other outdoor and wildlife projects. Activities cover topics such as indoor and outdoor gardening, gardening for wildlife, nature and plant explorations, science and nature experiments, and others.

Isabella's Garden by Glenda Millard, illustrated by Rebecca Cool
This is a beg-to-be-read-aloud book. Patterned after The House that Jack Built, it moves at a breathless pace and somehow covers an entire year in Isabella's garden. Wonderful!

E-I-E-I-O How Old MacDonald Got His Farm by Judy Sierra, illustrated by Matthew Myers
Little Red Hen is one smart chicken and she guides farmer MacDonald through the l-o-n-g process of turning his lawn (mowing was too much work!) into a garden. The illustrations are quite funny!

Two Old Potatoes and Me by John Coy, illustrated by Carolyn Fisher
A girl finds two old potatoes at the back of her dad's cupboard. Instead of throwing them out, she and her dad cut them up and plant them. After a summer of tending the plants, they harvest sixty-seven potatoes! Each page of this book is a pleasure!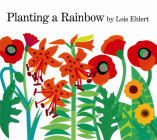 Painting a Rainbow by Lois Ehlert
This book is a celebration of flowers of every color and shape. The text is simple and the illustrations burst with flower enthusiasm.

Flower Garden by Eve Bunting, illustrated by Kathryn Hewitt
A girl and her dad buy everything they need to create a special window box for her mother's birthday. The illustrations show the entire project—the shopping trip, carrying everything home on the bus, and the delight of her mother. Plus the delight of everyone seeing the flowers from the street below.

The Patchwork Garden / Pedacitos de huerto by Diane de Anda, illustrations by Oksana Kemarskaya
Toña wished she could have a garden but where would she find a place to plant seeds in her city neighborhood? She and her grandmother asked to use a little plot behind their church. Their garden grew so well, all the neighborhood kids wished they could have a garden, too. Soon tiny garden plots grew all over the neighborhood.

The Curious Garden by Peter Brown
I know I've written about this book before but it's just so wonderful, I had to include it again! Liam finds a scraggly garden growing on some unused train tracks. He isn't much of a gardener but he learns after a while. When the garden grows curious, it spreads to other areas, wherever it feels like. There is real magic in this book.

Kid's First Gardening Book by Jenny Hendy
This book is huge! It has 256 pages and more than 120 projects. Each project is rated as Easy as ABC, Give it a Try, or Nice and Challenging. Chapters include Hands on Gardening, Flower Power, Wildlife Gardening and others.

Butterflies in the Garden by Carol Lerner
This book has illustrations of more than three dozen butterflies. It shows you how to lure them into your garden. It also explains how butterflies grow from caterpillars into full-grown fliers.
What is your favorite part about gardens and gardening? Write it in the Comments Box!
Gail