Celebrate! 4th of July Books for the Family
The 4th of July is in 3 weeks. It's such a fun holiday with picnics and parades, family and fireworks. These books will give you information on what it's all about and ideas for how to make it a great day.

 Celebrate Independence Day by Deborah Heiligman
This National Geographic book tells about the history and traditions of Independence Day with clear text and really great photos showing people having fun. The last pages include more information (recipe, books, websites, and an essay). This is one of the best holiday books I've read.

 Hats Off for the Fourth of July! by Harriet Ziefert, illustrated by Gustaf Miller
The Fourth of July Parade is in town and everyone is out to watch. The pictures and the simple rhyming text capture the excitement of a great parade.

 Happy Birthday, America! by Marsha Wilson Chall, illustrated by Gut Porfirio
This family has their family reunion on the 4th of July and they definitely know how to have a good time! They join the town parade, eat, play games, swim, eat some more, celebrate America's birthday with a huge cake with 50 candles, take a boat ride, and end the day with fireworks and sparklers.

 Apple Pie 4th of July by Janet S. Wong, illustrated by Margaret Chodos-Irvine
The girl in the story just knows no one will come into her family's store to buy Chinese food on the 4th of July. She's not surprised that the store stays empty, hour after hour. She thinks, "My parents do not understand all American things."  And then at 5 o'clock, she gets a surprise…
Independence Day by Leslie C. Kaplan (sorry, no link)
This book covers Independence Day history, some important birthday celebrations (1876, 1976), some traditions, and Independence Day symbols.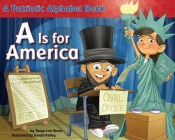 A is for America: A Patriotic Alphabet Book by Tanya Lee Stone, illustrated by Gerald Kelley
Each letter of the alphabet is represented by something that is important to our country (Bill of Rights, Constitution, Flag, Gettysburg Thomas Jefferson, Supreme Court, Harriet Tubman…) The illustrations show a bunch of kids who are putting on a play about the book's contents. 

 Stars and Stripes: The Story of the American Flag by Sarah L. Thomson, illustrated by Bob Dacey and Debra Bandelin 
With clear text and outstanding illustrations, this book tells the story of the American flag. It contains basic history but also gives interesting information that was new to me, such as the controversy over Betsy Ross.

 Happy 4th of July, Jenny Sweeney! by Leslie Kimmelman, illustrated by Nancy Cote
Jenny and the whole town get ready for the 4th of July. They hang flags, practice baton twirling, gather for picnics, join the parade, and watch fireworks.

 Star-Spangled Crafts by Kathy Ross, illustrated by Sharon Lane Holm
Looking for crafts to make for July 4th? This book has pins, hats, puppets, magnets, and other fun things to make.
Hooray for Independence Day!
Gail