Summer Travel: Books to Get You Started!
Will you be traveling this year? Here are some books dealing with transportation, destinations, journeys, and maps. Not traveling? Well, with these books, you can travel with your mind!

 How to Make an Apple Pie and See the World by Marjorie Priceman
The girl narrating this story is about to make a simple apple pie. But since the store where she was expecting to buy her ingredients is closed, she does the logical thing. She travels the world to get them! Clever story and illustrations!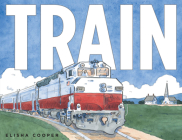 Train by Elisha Cooper
Have you ever ridden on a train? Would you like to? Well, this book definitely shows a true train experience—the speed, the views, the dining car, the stations … the whole thing. Well done!

 A World of Wonders: Geographic Travels in Verse and Rhyme by J. Patrick Lewis, illustrated by Alison Jay
Over a dozen poems highlight the world—Magellan's route, Italy, the Aurora Borealis, latitude and longitude… The poems are interesting, fun, and surprisingly educational.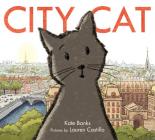 City Cat by Kate Banks, illustrated by Lauren Castillo
City Cat tours the world hitchhiking by car, boat, train, bike, and other modes. Each new place is an opportunity to explore, either at street level or perched high above. The end pages give more information about each place City Cat visits. This is a lovely book.

 The Adventures of Bella and Harry: Let's Visit Venice! by Lisa Manzione, illustrated by Kristine Lucco
Bella and Harry are sibling dogs who travel the world with their human family. In this book, they tour Venice, Italy. Their adventures include a gondola ride, chasing pigeons in St. Mark's Square, and picking out a carnival mask. There are 10 books in the series with 4 more coming out this year.

 Are We There Yet? by Sam Williams, illustrated by Manja Stojic
When Mother Duck takes her 3 ducklings on a trip, they complain and ask, "Are we there yet?" the whole way. Finally, at the very end, they find something to be happy about.

 Emma in Paris by Claire Frossard, photos by Chrostophe Urbain
Emma the sparrow has flown to Paris to visit her cousin Amélie. Amélie is a performer in a street circus. She asks Emma to join her and they perform all over the city. The cool thing about this book is that the illustrations are a combination of real photos of Paris landmarks (Notre-Dame Cathedral, Eiffel Tower…) with the animal characters drawn in. Quite charming.

 Mapping Penny's World by Loreen Leedy
Lisa makes a map of her bedroom, her backyard, the route to her friend's house, bike trails, and all the rest of her cat Penny's favorite places. This is a good introduction to maps and may inspire you to make some of your own.

 Instructions: Everything You'll Need to Know on Your Journey by Neil Gaiman, illustrated by Charles Vess
This is NOT a typical travel book. But if you are looking for a magical journey, this can get you there. I won't say more, except it is magical.

 Crinkleroot's Guide to Walking in Wild Places by Jim Arnosky
Will you be doing some camping or hiking this summer? This book gives some good advice on topics such as finding interesting plants, following streams, keeping your eyes open for hidden treasures, and finding animal trails. I'm a big Crinkleroots fan!
Happy traveling, no matter how or where you do it!
Gail