A Dozen Books for Young Music Lovers
What is music? One dictionary defines it sound that has rhythm, melody, or harmony, usually produced by voice or instrument. A simpler definition is pleasant sounds made by voices or instruments. I think of music as sounds and rhythms that make you want to smile, sing, dance, and hear over and over. How do you define music?
Here are a dozen books that have music at their core. Smile! Sing! Dance! Do what your heart says!

 Zin! Zin! Zin! A Violin By Lloyd Moss, illustrated by Marjorie Priceman
First the trombone plays, then the trumpet, followed by the French horn. One by one, these three are joined by all the instruments of the orchestra. Each is introduced by a short poem that gives a sense of its personality. Also by this author are Music Is and Our Marching Band.

 Violet's Music by Angela Johnson, illustrated by Huliska-Beith
By the time she was just a baby, Violet played music. Every moment of her life was filled with music. But when she got to kindergarten, she learned kids had interests other than music, so she starts a search for kids like her. How long will she have to search?

 My Family Plays Music by Judy Cox, illustrated by Elbrite Brown
This girl has a whole family of musicians. And she plays along with each of them: tambourine, cymbals, rhythm sticks, wind chimes…she plays something different with each family member. This is a lucky girl!

 This Jazz Man by Karen Ehrhardt, illustrated by R. G. Roth
Do you know about the great jazz men of the past? In a fun version of This Old Man, this book presents the music of Louis "Sattchmo" Armstrong, Bill "Bojangles" Robinson, Charlie "Bird" Parker, and 6 more of the jazz greats.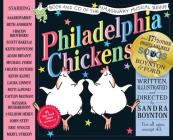 Philadelphia Chickens by Sandra Boyton
This book and CD rocks! It's a collection of 19 songs—the book contains the words and music and the CD has rocking versions of each song. A perfect combination for car trips!

 Can You Hear It? by William Lach
Except that it is a book-CD combination, this book is nothing like the one above! It is a serious (yet fun) pairing of 13 pieces of classical music (2-3 minutes each) and paintings found at the Metropolitan Museum of Art in New York City. Each pairing suggests that you listen for certain details in the music, such as a bumblebee flying from flower to flower, marching knights, and Christmas fairies.  

 The Story of the Orchestra by Robert Levine, illustrations by Meredith Hamilton
Of the 3 book-CD combinations in this post, this one has the most information. You can use it as you like—carefully read all the information as you listen or just read what interests you as you listen. It works either way. It covers the instruments, the music of four different musical eras, and the composers who wrote them.

 The Flute by Rachna Gilmore, illustrated by Pulak Biswas
This tale is set in India. Chandra is a girl whose mother plays the most beautiful flute music in the world. When tragedy strikes, Chandra has only her mother's flute to comfort her. But then this too is taken from her. The story follows Chandra as she seeks to find her own music.  

 Play, Mozart, Play! by Peter Sis
Mozart is my favorite composer. I never get tired of listening to his music or reading about him. In this delightful picture book, the author tells quite a bit about his life with few words and terrific illustrations.

 Farmer Joe and the Music Show by Tony Mitton, illustrated by Guy Parker-Rees
Farmer Joe's farm is not doing well—the crops won't grow and the animals won't eat. What do they need? Well, music, of course! It's a delightful book that DEMANDS that you read it aloud, and dance too.

Boom Bah! by Phil Cummings, illustrated by Nina Rycroft
Starting with a little mouse's tiny ting! of spoon-on-cup, the animals of the farm form a band. This would be a fun read aloud.
 Listen to My Trumpet  by Mo Willems
Piggie is so excited to play her trumpet for Gerald. He happily agrees to listen…until she plays. Not music! But how can Gerald tell his friend that her playing is not so great? Clever ending!
Such wonderful books about music! I hope you enjoy them as much as I do!
Gail