Cozy Books to Help You Appreciate this Winter Season
Winter is a great time to snuggle in with good books. Here is a bunch with a winter theme. Snuggle and enjoy!

Time to Sleep
by Denise Fleming
Bear can smell winter in the air. She is ready to climb into her cave and sleep but first she must tell Snail. Snail is ready to sleep, too, but first she must tell Skunk. And so the book goes, with each animal telling another. This is a perfect book: great text, easy-to-understand information, and outstanding illustrations.

Winter's Coming
by Jan Thornhill, illustrated by Josée Bisaillon
Lily is a young snowshoe hare and she has a mystery to solve. All the other animals are getting ready for the coming of winter. But what is winter? Is it a dangerous animal? Why do all the animals she meets have a plan to protect themselves except her?

The Shortest Day
by Wendy Pfeffer, illustrated by Jesse Reisch
This book discusses the winter solstice. It covers topics such as the change from autumn to winter and the concept of the Earth's tilting away from the sun. It also provides a history of human understanding of why the number of daylight hours changes as the year goes on. The last pages give solstice facts, simple experiments, and solstice party suggestions.

Red Fox Running
by Eve Bunting, illustrated by Wendall Minor
I'm always happy to discover a book by Eve Bunting that I'd never read before. This one about a red fox desperately looking for food in winter is a delight. Bunting's rhyming text clearly gives the sense of urgency, as do the illustrations.

Days of the Blackbird: A Tale of Northern Italy
by Tomi dePaola
A wise and kind Duke lives with his daughter in a house in the middle of town. The two spend long hours in their courtyard listening to the songs of birds. When the Duke becomes very sick, one pure white bird sings to him all winter. This is a lovely original folktale based on an Italian lesson.

There was a Cold Lady Who Swallowed Some Snow
by Lucille Colandro, illustrated by Jared Lee
Based on There was an Old Lady Who Swallowed a Fly, this story has the lady swallowing all sorts of odd things, just like in the original. Based on what she swallows, I predict that you'll know exactly what she hiccups up in the end.

The Five-Dog Night
by Eileen Christelow
Ezra and his 5 dogs live in a house on a windy hilltop. Every day his neighbor Betty would visit, bringing cookies and giving advice as to how to get through the cold nights. Ezra ignored her advice—he had his own ways to keep warm. This is a fun story.

Red Sled
by Lita Judge
Someone leaves a red sled outside on a winter night. A brown bear comes by and sees the possibilities. This is a nearly wordless book. But it is not quiet. Each page has the most wonderful sound effects. This book BEGS to be read aloud.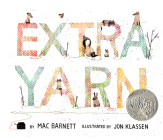 Extra Yarn 
by Mac Barnett, illustrated by Jon Klassen
Annabelle finds a box filled with yarn. She knits for everyone and everything in town. Then an evil archduke decides he wants the yarn for himself. What makes a good picture book great? There are probably dozens of answers. This one is great because every page made me smile and flip the page to see how this simple story turns and changes.

Winter 
by Siân Smith
Written for beginning readers, this nonfiction book covers what to expect in winter. The pictures perfectly support the simple text.

The Kids Winter Handbook 
by Jane Drake and Ann Love, illustrated by Heather Collins
This book has everything you need to get you through winter. You'll find winter information, winter crafts, plus outdoor and indoor winter activities. Warning—you may not have enough winter to do everything here!
How Do You Know it's Winter? 
by Ruth Owen (Sorry, no link.)
This book is very well put together. It has lots of winter information that is organized in short chapters such as, The Shortest Day and A Winter Rest for Plants. Each page has photos of winter scenes and text boxes with extra information and short activities.
Be sure to check back next week for more winter books!
Gail