MORE Cozy Books to Help You Appreciate this Winter Season
Here are some more winter books to help get you through those too-cold-to-play-outside days.

Blizzard
by John Rocco
The author tells about the blizzard of 1978 when he was a boy. With four feet of snow on the ground, there was no way to get to the store and food was running out. It was time for action and John knows just what to do. The illustrations give you lots to look at.
Quiet Bunny & Noisy Puppy
by Lisa McCue
When the snow starts to fall, Quiet Bunny looks for someone to play with. Noisy Puppy wants to play, but the two animals are so different. No problem, they become great friends.

First Snow
by Emily Arnold McCully
This wordless book does everything right. It has a great plot, interesting characters, and illustrations that make you want to keep looking. Yay!

Winter
by Cynthia Amoroso and Robert B. Noyed
In simple text and colorful photos, this book covers many features of winter.
The Winter Solstice
by Ellen Jackson, illustrated by Jan Davey Ellis (sorry, no link)
This book explains different early peoples' thoughts about the winter solstice and their rituals and traditions. Among others, the Celtics, Romans, and Native Americans are included. The book ends with a Cherokee folktale on the creation of the seasons.

Lemonade in Winter 
by Emily Jenkins and G. Brian Karas
When it;s winter, you think about lemonade, right? And lemonade stands. No??? Well, these 2 kids do. They buy their stuff and make the drinks. They put on their coats, mittens, and scarves, and then set up their stand on the snowy sidewalk and start selling. A little.

Animals in Winter 
by Martha E. H. Rustad
This book covers migration, hibernation, animals, and signs of winter. The text is basic and the excellent photographs support it well.
A Snowflake Fell: Poems about Winter
compiled by Laura Whipple, illustrated by Hatsuki Hori (Sorry, no link.)
There are 23 poems that sing of the spirit, joy, and many faces of winter. The illustrations perfectly capture each poem. Why not take turns reading your favorites aloud?

Peter and the Winter Sleepers 
by Rick de Haas
Peter, his grandmother, and his dog live in a lighthouse. One winter morning, Peter wakes up to snowy world. The next morning, there is 3 feet of snow. All sorts of animals come to the door and windows, begging to come in from the snow. But what about the fox? Should they let in the fox? If you've ever thought about living in a lighthouse (I have), this book might convince you it would be great.

Winter Song 
by William Shakespeare, illustrated by Melanie Hall
Have you ever read something by Shakespeare? Ever thought you might like to? This poem, written over 400 years ago, was part of Shakespeare's play, Love's Labor's Lost. It is dreamy and the illustrations are too. Some of the words and phrases are ones we don't use today, but no problem—they are explained in the back of the book.

Sugar White Snow and Evergreens
by Felicia Sanzari Chernesky, illustrated by Susan Swan
A family travels to Mr. Sweet's Famous Sugar Maple Farm. When they get there, they see silver pails hanging on trees, collecting sap. The family then visits the sugar shack and watches the sap get boiled down. The book's pages are filled with rhyming text that focuses on colors and illustrations that show the snowy wonder of winter.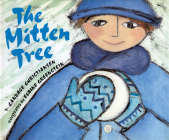 The Mitten Tree
by Candace Christiansen, illustrated by Elaine Greenstein
An old woman misses having children in her life. When she noticed a boy waiting at the school bus stop with no mittens, she goes home and knits him a pair. The next morning, she leaves them on the tree by the bus stop. Day after day, the woman knits more mittens for the bus stop kids and secretly leaves them on the tree. This is a quiet and loving story.
Looking for more winter books? Here are  last week's winter books. Enjoy winter—either outside playing in the cold or inside reading books!
Gail