Bring in 2015 with Chinese New Year Books!
Chinese New Year begins on February 19th this year and continues for 15 days. Here are some nonfiction and fiction books that tell all about the holiday.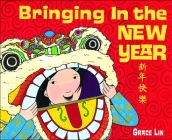 Bringing in the New Year
by Grace Lin
This picture book has it all: short, clear text that gives just the right amount of information and outstanding illustrations. It makes me want to find and be part of a Chinese New Year's celebration. Other good basic books about Chinese New Year:
Happy, Happy Chinese New Year by Demi
Dragon Dance: A Chinese New Year Lift-the-Flap Book by Joan Holub, illustrated by Benrei Huang
Max Celebrates Chinese New Year by Adria F. Klein, illustrated by Mernie Gallagher-Cole
Chelsea's Chines New Year by Lisa Bullard, illustrated by Katie Saunders
Celebrating Chinese New Year
by Diane Hoyt-Goldsmith, illustrated by Lawrence Migdale
Ten-year-old Ryan and his family get ready for Chinese New Year. This book follows their preparations with lots of information and photos of their activities. Included are chapters on getting ready, honoring ancestors, the animals of the Chinese Zodiac, food, and more. A similar book:
Lion Dancer: Ernie Wan's Chinese New Year by Kate Waters and Madeline Slovenz-Low, illustrated by Martha Cooper

D Is for Dragon Dance
by Ying Chang Compestine, illustrated by Yongsheng Xuan
I love ABC books. This one gives wonderful glimpses into Chinese New Year and the illustrations are bright, interesting, and inviting.

Moonbeams, Dumplings & Dragon Boats
by Nina Simonds, Leslie Swartz, and the Children's Museum, Boston, illustrated by Meilo So
This book nicely covers a lot of ground. It presents information, stories, food, and activities for celebrating five Chinese festivals—Chinese New Year, the Lantern Festival, Qing Ming, the Dragon Boat Festival, and the Moon Festival.

A New Year's Reunion
by Yu Li-Qiong, illustrated by Zhu Cheng-Liang
Maomao's father works far away and comes home only at Chinese New Year. While he's home, the family carries out traditional tasks, including burying a coin in a rice ball. When Maomoa loses the coin, she's distraught. This is a lovely story. The last page explains that for some Chinese migrant workers, working far from home is a common thing.

Sam and the Lucky Money
by Karen Chinn, illustrated by Cornelius Van Wright and Ying-Hwa Hu
Sam receives four bright red envelopes as part of the traditional Chinese New Year celebration. Each contains a dollar. He goes shopping and is disappointed that the money won't buy as much as he had hoped. When he comes upon a barefoot man, he knows the best way to use his money.

Paper Crafts for the New Year
by Randel McGee
Crafts include a dragon puppet, a lion dancer mask, a red gift envelope, and 5 more crafts. The directions are clear and well-illustrated.

The Boy Who Painted Dragons
by Demi
Ping is a boy who is afraid of dragons. To hide his fear, he paints them on every surface. The dragons in heaven see his paintings are so pleased they decide to pay Ping a visit. When they see Ping's fear. they give him three pearls of wisdom. Ping then goes out to visit the dragons of water, fire, earth, and wind, who they help him face his fear. This book is not really about Chinese New Year but since it's about dragons, and it's gorgeous, I decided to include it.
Kung Hei Fat Choy! (May Prosperity Be With You!)
Gail